the little seven seven ranch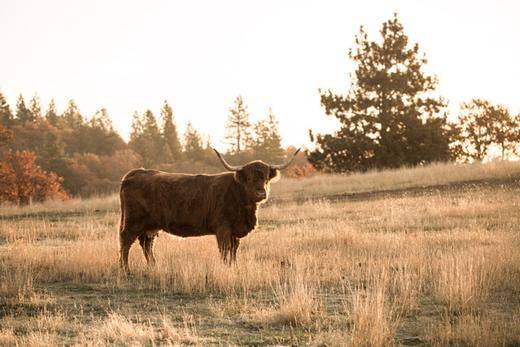 The Farmers:John Streur and Mary Kleihege
Year Founded: Early 2000s
Acreage:The cattle roam1700 acres in the Columbia River Gorge.
Animals Raised:Highland Beef Cattle.
Farming Practices:Mountain ranching;raising cattle naturally, on the range; seasonal grazing on a bio-diverse diet of native grasses and forage; Agroforestry and silvopasture grazing; ongoing effort to reduce fuels that could lead to potential fires.
Certifications:USDA-Inspected
Fun Farm Fact:"The Little Seven Seven" name comes from the shape of the two original sections of land that made up the ranch, each shaped like a block number seven, one on top of the other, touching kitty corner, and running a total of two miles north to south and two miles east to west. The ranch brand is L77, and the ranch is known locally as "The L77."
Happy cows, healthy beef.
The right breed of cattle, unique land with a variety of natural feed and a herd of well cared for Highland Cattle. These are the ingredients that create the finest quality Highland Beef. Highland Cattle is a very old breed, more common in Europe than in the United States.
The Highland Cattle fold at The Little Seven Seven Ranch has a completely natural diet of native grasses, Oregon White Oak brush, and many types of native brush. Highland cattle eat what other breed of cattle would leave behind. This bio diverse diet contributes to the happiness & healthfulness of the herd.
Ready to try Highland beef? Check out our Grass-Fed Beef Selection.
Photo Credit: David Neff. Courtesy of Little Seven Seven Ranch