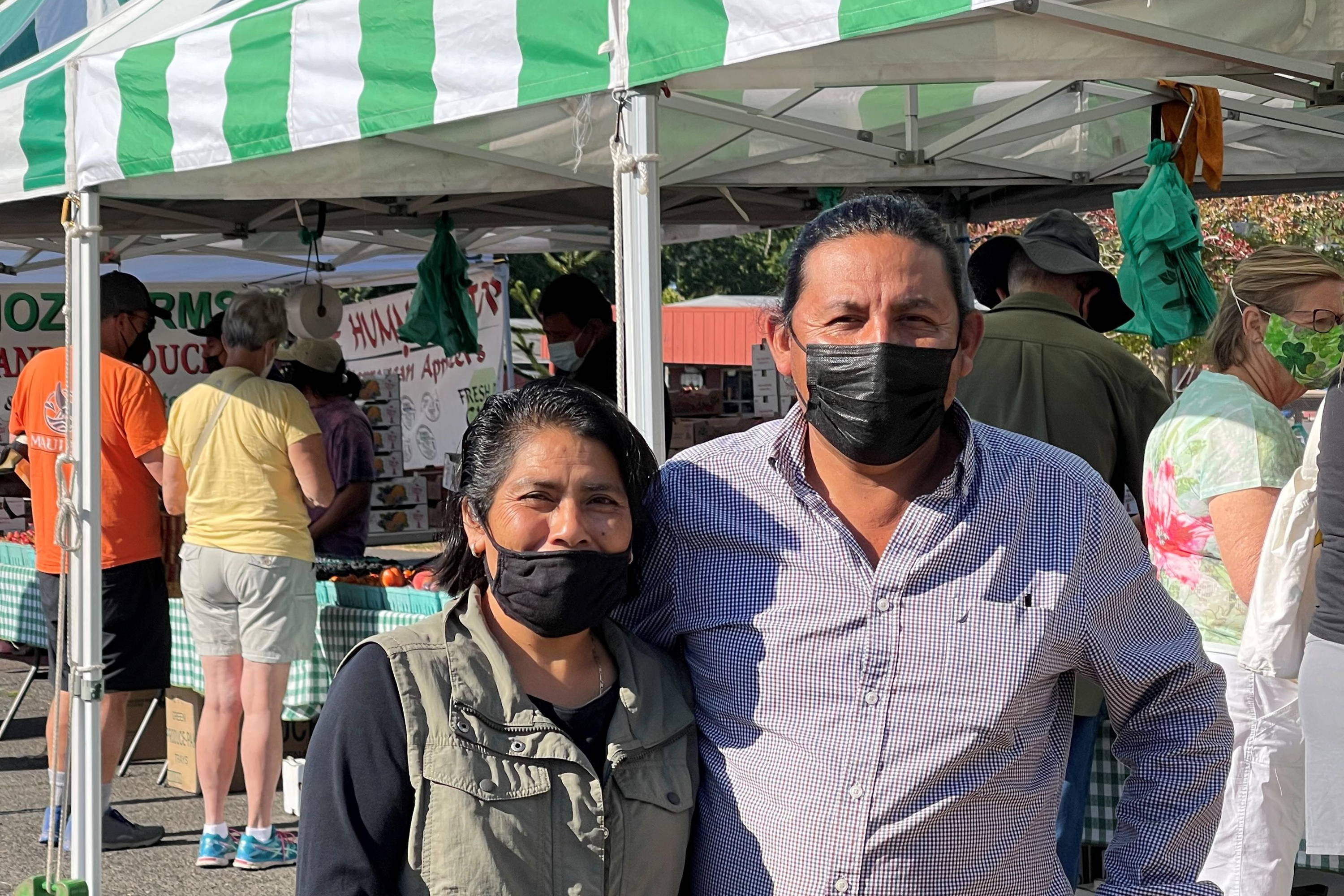 The Farmers:Pablo Munoz and Rosi Munoz
Year Founded: 1998, but Pablo has been farming since the early 90s.
Acreage:All land is currently rented from neighboring farms (around 110 acres in 2021).
What they Grow:Peaches are always the true rockstar, but many fruits and vegetables are grown from year to year including strawberries, blueberries, cherries, peppers, artichokes, leeks, spring onions, green beans, lettuce, and hearty greens.
Farming Practices:About 90% of products are labeled organic, bio-degradable mulch row covers and hoop houses are used in the fields to keep weeds down and decrease the need for spray; for irrigation, drip tape keeps the soil well-nourished; soils are regularly tested to ensure they're not wasting and/or losing water to get the most out of what they're using.
Quote:Growing up with Pablo, his family recalls this observation from him: "We're not in competition with anyone, we're growing food. There might be another farm selling the same thing, but they're growing it their way. Farming isn't a competition but a way to get food to people."
Pablo Munoz moved to Dayton, Oregon in the early 90s to work with cattle farmer, Ron Finnicum. This opportunity introduced Pablo to the fertile region that would eventually become home to his own farm, where he now grows some of the best seasonal produce available.
In those early years, Pablo worked hard day and night to demonstrate his capabilities. He was grateful for the chance to start his life's journey in a welcome work environment that also included a place to live. In his downtime, he began caring for his own garden of fresh produce. He took great care in his craft and friends began to take notice of his efforts and the quality of his plants. In time, Ron also recognized Pablo's potential and gave him the reins to manage a small peach orchard. Pablo not only excelled at this, he began growing a variety of beautiful fruits that spurred Ron to suggest Pablo take it a step further by launching his own farm.
Pablo Munoz did just that, allowing him to be at the helm of his own destiny. Since those early days, he has provided for his family while growing his farm into one of the best organic producers in the region. For a glimpse into what this farm offers, head to @pablomunozfarms on Instagram and you'll discover strawberries, blueberries, cherries, peaches, peppers, artichokes, leeks, spring onions, green beans, lettuce … the list goes on.
Pablo still looks back on those early days with gratitude. And, he continues to pay it forward to the community: In 2020, Munoz Farms was recognized for donating 16,580 pounds of food which provided 13,816 meals to Yamhill County. His accomplishments and his family continue to thrive and he tributes Ron and his wife Marie for giving him the opportunity to make a living doing what he loves.
We love working with the family at Munoz Farms and their abundance of fresh produce. If you see Pablo at one of his farmstands—we recommend the berries, and tell him we say hi!
Photo Courtesy of Pablo Munoz Farms