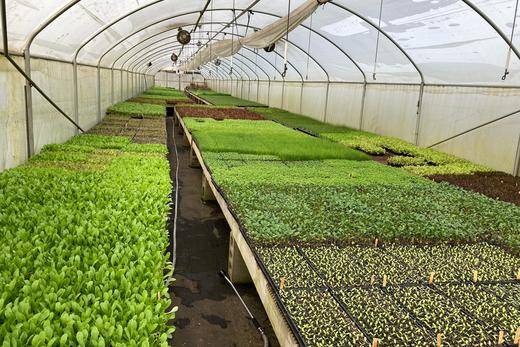 The Farmers: Gabe Cox and Sophie Bello
Year Founded: 2001
Acreage: 147
What they Grow/Seasonal Items: Strawberries, raspberries, kale, sweet onions, garlic, potatoes, zucchini, fresh herbs, chard, chives, tomatoes, peppers, melons.
Farming Practices: Crop rotations for every field every year, diversity of crops, emphasis on soil health and fertility, using micro nutrients, and cover cropping.
Certifications: USDA-Certified Organic
Quote: Speaking to the farm and its home in Oregon: "We have beautiful well-drained soil and a great long growing season for berries, that's how we started."
Strawberries, rhubarb, kale, sweet onions, garlic, peas, potatoes, zucchini, thyme, basil, cilantro, parsley, mustard, chard, chives, mint … this beautiful array is why huge crowds huddle patiently around the Groundwork Organics tent at the farmers market.
Founded in 2001 by Gabe Cox and Sophie Bello, this farm has grown from a mere 10 acres to 147 acres over the past two decades. The two founders first crossed paths at local Eugene farmers markets, where their relationship blossomed, leading them to eventually launch their own venture on land along the Willamette River. Their rich farmland is touted to be some of the best in Oregon withsilty/sandy loam soil sometimes measuring up to ten feet deep!
Over the years, this organic farm has grown in scope; they currently run their own farmstand out of a restored dairy barn, supply local area restaurants and health food stores, and manage their own Community Supported Agriculture program. They've also enriched our region's agriculture by educating farmers to rehabilitate native lands to organic status.
Using hoop houses to extend our region's growing seasons, they've managed to feature a broader selection of fruits and vegetables to the masses. These high tunnels keep frost at bay and let farmers grow in a controlled, insulated environment. Extending their harvest timeframe allows Groundwork Organics to get the most out of their high-demand items; it's no small secret they're often the first to market with fresh strawberries each spring.
It goes without saying: Groundwork Organics is a crowd-pleaser because of its organic quality and diverse variety. We're proud to be working with them and hope you enjoy their stunning selection of seasonal produce.
Photo Courtesy of Groundwork Organics