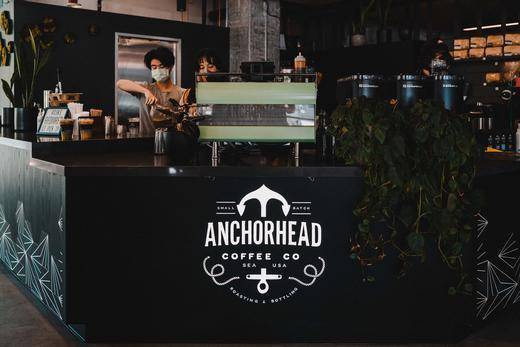 The Roasters:Mike Steiner and Jake Paulson
What They Make:Roasted coffee beans sourced from small, single-family producers or co-ops in Brazil, Ethiopia, Guatemala, Honduras, Costa Rica, Kenya, Sumatra, Colombia, Rwanda, Ecuador, and Mexico.
Year Founded:2013
Locations:Downtown Seattle, Bellevue, Pike Place Market
Practices:Small batch roasting and brewing.
Quote:It's a simple one, but straight to the point: "Be good."
We were lucky enough to have the opportunity to chat with a friend over at Anchorhead Coffee Co. Ross Beamish, who works in Education and Outreach for Anchorhead.
Ross has a tremendous outlook when it comes to guiding us through some thoughts about the agricultural of coffee. In one sense, the majority of coffee consumers in the west won't ever see coffee growing as a fruit on a tree, so, it is nice to be reminded that beyond the craft of handling coffee like an ingredient to be worked with, it is fundamentally an agricultural business and trade.
When we asked Ross how he looked at the work his team was involved in, from sourcing raw product all the way through brewing a cup of coffee, he said this: "For me, it's both [technique-driven as well as a narrative.] I really care about the quality in the cup but I'm not so dogmatic about the principles of preparing coffee that I allow it to become overbearing. I really like to cook and for me that involves good ingredients first. Once you have those I think you should experiment, but with restraint in mind. Understanding the techniques to brew really quality coffee can involve a lot of technical information that is valuable when experimenting - once you understand those factors I think it's really freeing to scrap them and just make coffee with your intuition and an approach of gratefulness. I think a lot of coffee pros use scales, water with certain minerals etc...and that's all great, but if you're not simply enjoying the experience as well, then none of that really matters. Too many tools can become a stand-in for a real sense of presence and enjoyment when you're preparing food or a beverage.
With that said, the best coffees are produced with very detailed practices at [the farm] and this is nothing to scoff at. These steps determine the quality of the cup, that no special kettle or flow rate dripper can replace."
It's easy to forget how long the chain is in coffee production. As the seed of a fruit grown in a tropical region, it is surprising to know that a lot of the people who buy and consume it on a regular, even daily, basis, don't think of it as an agricultural product.
The complicated dynamic with drinking coffee in the west, is one where the majority of us who drink coffee were born into a world where the international commodity market has had decades to define our expectations; ensuring that our relationship to a "fair" price for a cup of coffee is in fact, totally artificial. What should we expect when we buy a cup of coffee? Does any of our money make it's way to the farmers who actually grew it? What can we do? The bottom line is that we've grown accustomed to cheap coffee. But the same argument can, and should, be made for how we might go about relating to coffee as an important food:
"Pay more!" Ross suggests, "The commodity price for green coffee hovers around a dollar [per pound] right now. This is about half of what most growers need to break even. When you buy from roasters like Anchorhead you're supporting livable wages for real farmers. When you support brands that sell coffee for $7/lb you're either drinking what I call "snicklefritz", coffee with major defects and pesticides or worse, coffee that ripped off a small grower who had no leverage."
The hard part isn't going to be understanding that coffee is in fact a very special food, it's just breaking down a false notion, and to that end Ross reminds us that, "If you have learned to appreciate local produce and are willing to pay a premium for good ingredients you should add quality coffee to your list. Anchorhead aims to pay farmers what they really need to produce mind-blowing coffees. We truly do buy only the coffees that we love and we're always happy when that means it came from a small, quality single-family producer or co-op."
We're happy to work with professionals like Ross, and the whole Anchorhead team. Aside from making a fantastic beverage, they are unwavering in their integrity. If you have the opportunity, we highly recommend a visit to one of their locations to try coffee made by their own hands.
Add Anchorhead Coffee to your next order.
Photo Courtesy of Anchorhead Coffee