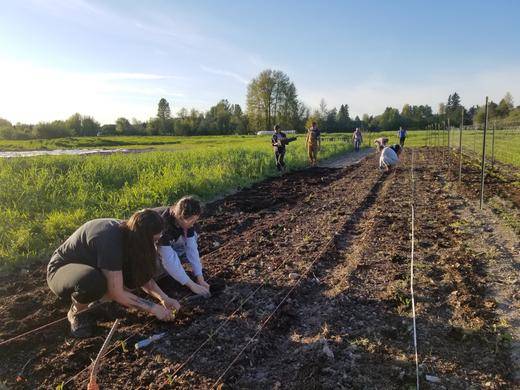 The Farmers:Viva's dedicated team members are Michael Frazier, Rob Smith, Danielle Halstead, Anna Chotzen, Andrew Christian Ely, Micah Anderson, Steve Crider, Martin Burwash, Katherine Myrvold, and David Alvarez.
What They Grow:Every farmer working under Viva's program is free to grow what they want. The produce selection from Viva Farms represents the seasonal fruits, vegetables, flowers, and herbs of Skagit Valley, Washington.
Year Founded:2009
Acreage:120
Farming Practices:Viva Farms is a farm incubator that has educated over 1,000 farmers (150+ Spanish speakers) in sustainable organic farming. They are currently incubating 29 farm businesses (9 Latino-owned, 44% female-owned) and anticipate having 40 students in their Practicum in Sustainable Agriculture in 2021. Their vision is to "preserve sustainable farming by creating a strong and just local food system."
Viva's Mission:"We empower aspiring and limited-resource farmers by providing bilingual training in holistic organic farming practices, as well as access to land, infrastructure, equipment, marketing and capital."
We are so, so, SO stoked to link up the absolute game-changing family of visionaries over at Viva Farms, which has two properties they are working from, One in Skagit County, and another in King County. Viva Farms is a non-profit Farm Business Incubator established in 2009 that empowers limited-resource farmers. They offer bilingual training in holistic and organic farming. And more than that, they help secure access to land, equipment, and capital for the people who need it! In the 11 years, they've been doing their thing, they have educated over 900 farmers (!!!) and they are currently incubating 24 independent farms!
The very clear reality at the core of their organization's heart is an alarming one; In the next 2 decades, 70% of the farmers in Washington will most likely be retiring, which shouldn't come as that big of a surprise when we take note that the median age of all Washington farmers today is 58 years old. This distressing set of statistics is unfortunately not a surprise. In fact, it is a regionally specific example of a trend that is affecting the way farming and agricultural businesses in general, are shifting in the United States as a whole. Furthermore, it is something we at MilkRun are very in tune with, and near the core of our philosophy as well. What Viva Farms is doing is setting up a real pathway, with real infrastructure, including localized capital and workforce, for the people in the surrounding community to access agriculture.
Food security is, and always has been, work that involves people who actually want to be part of a community. It is only in the outsourcing of food and labor, that we as a society have grown so detached from what it takes for us all to live and eat as fully as we might. Our circumstance is one where we are all going to have to find the reasoning to reclaim and repair a dynamic that has been made so hard to understand.
But true leadership, by example, is the way that the teachers and facilitators at Viva absolutely shine! And as we all might be so fortunate to have community organizers like these people in our backyard, we to are extended a greater degree of access to better food! Because that's what they do: grow amazing food and teach others to do it too! This is our first week working with them, and what we've seen so far is nothing short of impressive. We hope that you find inspiration in the work that they are doing, and while you're at it, go to their website to learn about the amazing team holding it down!
Read their story in their own words, and if you are moved by them even a fraction of the way we have been, look into the ways that they, and all the individual farms that they are made up of, would benefit by your direct involvement.
Photo Credit: Marcus Badgley. Courtesy of Viva Farms