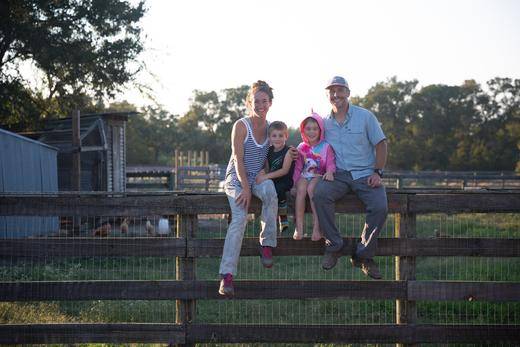 The Farmers: Sam and Carolynn Moffett
Animals Raised:Wholesome beef, chicken, and eggs, they also growoats, ryegrass, hairy vetch, turnips daikon radishes, various clover varieties, sorghum, sudangrass, cowpeas, sun hemp, native and exotic perennial grasses.
Year Founded:2017
Acreage:300
Farming Practices:A regenerative farm, uses a no-till drill for planting, occasionally lightly discs a field, plants legumes and grasses, adheres to the Haney soil test (gives more info than standard soil tests, which tests water infiltration and soil structure; managed intensive grazing, hot fence, paddocks, rotating cattle at high stock density -- an abundance of grass rotating every week, every single day during the high season. No herbicides or pesticides or antibiotics are used, they try to produce as much forage on the farm as possible, and plan for dry seasons by making silage hay, wrapping the bales in plastic to retain nutrient value. Laying hens are raised on pasture are supplemented with non-GMO soy-free feed.
Certifications:Pursuing Certified Humane for eggs.
Advice: "Customers should ask questions of their farmers and of the sources of their food. I would encourage customers to ask those questions, and get a direct response."
Today, the Moffett family runs the modern version of Shirttail Creek Farm - but it has a history that dates back over a century.

In the mid-1800s, Wilhelm and Mina Kramer emigrated to the US from what was then Prussia. They built a sturdy wood frame house, worked the land, and raised a family at a time when Texas was still very much a wild frontier.

Today, Carolynn and Sam Moffett continue that tradition with the goal of bringing local and wholesome beef, chicken, and eggs to people in South Central Texas (and beyond!), while raising their own family in the very same house built by the Kramers so long ago.

Shirttail Creek Farm remains completely intact after more than 150 years and sits on the rolling Blackland Prairie just outside Brenham, TX, about halfway between Austin and Houston.

The farm is a vibrant and busy place! When the Moffettes' aren't not working their cattle or collecting eggs from their hens, you can typically find them repairing fences or other infrastructure on the farm, stacking hay, or shredding the pastures. Sometimes, they might even take a break to crack a cold one and go fishing in the creek.

Sam and Carolynn endeavor to run their farm in the most simple, environmentally friendly manner possible. As such, they do not spray their pastures with chemical herbicides or pesticides. They also do not use hormones, antibiotics, or steroids on their animals.

Their animals are simply full of bugs, grass, and lots of sass.

See the difference pasture-raised eggs make with the dark and delicious yolks courtesy of the Shirttail Creek hens.

You can also try their products in our chef-curated Butcher's Choice or Grass-Fed Beef Selections.
Photo Courtesy of Shirttail Creek Farm