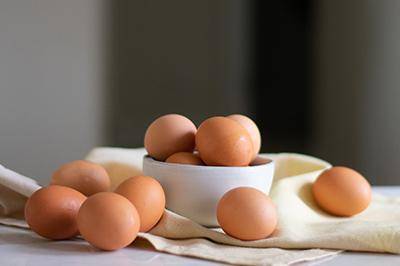 The Farmers: Bernie Nash.
Year Founded: 2007, but Mad Hatcher has been Bernie's moniker since he was 13 years old.
Acreage:17.
Animals Raised: Bovans Brown hens, Barred Rock chickens,North American Blue Footed Poulet Bleu chickens.
Farming Practices: These chickens are free-range and raised on a feed that Bernie grinds and mixes on his own containing corn, soy, barley, peas, canola oil, and mineral mix.
Fun Farm Fact: Bernie has been raising chickens since he was 13. He was awarded the 4H Poultry of the Year Award in 1973.
Bernie's Mad Hatcher nickname (and business name) stems all the way back to grade school when he was hatching eggs and raising chicks right in his own bedroom at the age of 13! This eventually turned into much more than just a childhood hobby as he now produces some of the best eggs in Washington state.
Since 2007, Bernie has been a chicken farmer based in Ephrata, WA, about a two-and-a-half-hour drive east of Seattle. He raises birds that some call the Rolls Royce of chicken, the North American Blue Footed Poulet Bleu. These flocks require better living conditions, a complex and diverse diet, and access to run around outdoors while conducting chicken-esque behavior, all things Nash is proud to provide; he asserts he isthe only one that has the genetics for the Poulet Bleus.
Mad Hatcher Poultry is much more than these rare birds, though. Since we've launched our Seattle delivery service, Bernie has been providing us with farm-fresh, free-range eggs that we truly believe in. This farm is always in pursuit of better flavor and higher standards.
As Bernie sees it, the egg industry is bleak when it comes to the humane treatment of chickens. He chooses to operate in "the margins" — outside of the status quo. This commitment breaks from the standards set by large-scale commercial enterprises. To him, a chicken's efficiency is less important than flavor, and he takes pride in feeding them right.You won't find anyone else that puts 400lb peas to a ton in his recipe ofcorn, soy, barley, peas, canola oil, and mineral mix. He claims it "makes everything sweeter."
It's quite the uphill climb to raise chickens outside of the large-scale operations that have dominated the distribution pipeline to food markets and big-chain grocery stores. Luckily for us, we've found a farmer that operates with his own high(er) standards. We're thrilled to be offering farm-fresh eggs from a true original — Bernie, the "Mad Hatcher" Nash.