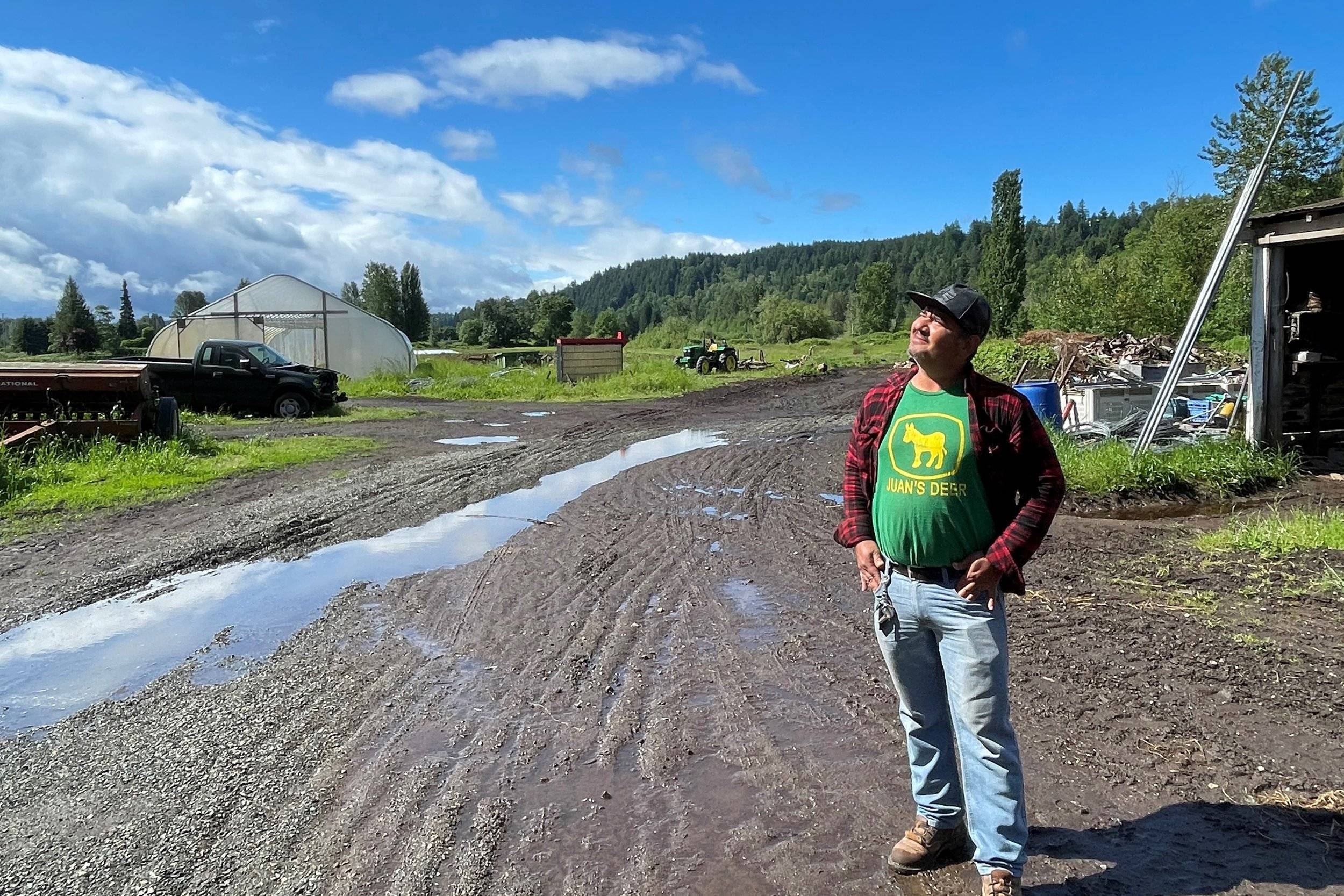 The Farmers: Amy Moreno-Sills and Augustin Moreno
Year Founded:2014, but founded the current location in 2016
Acreage:123 total, 56 farmed acres
What they Grow:Kale, green leaf lettuce, mixed cherry tomatoes, beets, carrots, kohlrabi, peas, beans, radishes.
Farming Practices:A conservation easement protects the land, there is an agricultural well for watering. Crops are rotated regularly to always be rebuilding soils and grow in the best land possible. Crops like peas and beans are grown to release nitrogen into the soil. High tunnels and crop covers are used to protect the crops.
Fun Farm Fact:Agustin loves radishes! He could be drinking coffee in the morning and eating radishes.
Four Elements Farm, in the Puyallup Valley, is owned and operated by Amy Moreno-Sills and Augustin Moreno. The two met and have been farming together since 2002, and currently tend to over 30 Acres of mixed fruits and vegetables, with a noteworthy 6 acres of blueberries! Many of the original blueberry bushes, planted nearly 80 years ago, are so tall now that they've been groomed into tunnels.
While the vegetable growing that Four Elements dedicates their efforts towards is a large part of their business, you can't help but consider the other parts of the farm and its capacities:
The 6 acres of certified organic, "U-pick" blueberries on the farm are actually an integral part of what the owners are invested in; community and education.
The Puyallup Valley, like much of the open spaces in Washington, Idaho, and Oregon, is subject to an ever-growing expanse of suburban sprawl, and all that comes with it…
The list of implications is long when we talk about shrinking farmland. Yes, it's true that farmland isn't the same thing as untouched grasslands or forest, but the bottom line remains; without dedicated open spaces, and people who care to protect and work harmoniously with them, a shortage of food isn't the only thing that we risk having to come up against.
100's of native species make their home in and around the farmland, and for most of us, it's not hard to see how beautiful that is. Spending even a single afternoon picking blueberries with your family or friends can really center you in a moment and place--probably something we could all benefit from. Having a real opportunity to show your 6-year-old where fresh food comes from, and what kinds of birds live near the place where blueberries grow, is more than priceless. It's life-changing, in small ways that we only see looking backward, into our fondest formative memories.
It's more than idealistic rhetoric; it's emotional anchoring. If your hope is that you might find work supporting your community, farming is an option. And if you want your community to understand just why it is so important, sometimes you need to find a way to invite them into that world, so that they can know fully just how special it all is.
The family and the team at Four Elements Farm is doing beautiful work, no matter which way you cut it up. As farmers and stewards, but also as community leaders, and as people who see the benefit of education being at the core of sustainable growth. We are so happy that we get to work with their family and equally happy that the food that they put so much love into growing gets to make it out to you! Maybe you might get a chance to make it out to them, too!