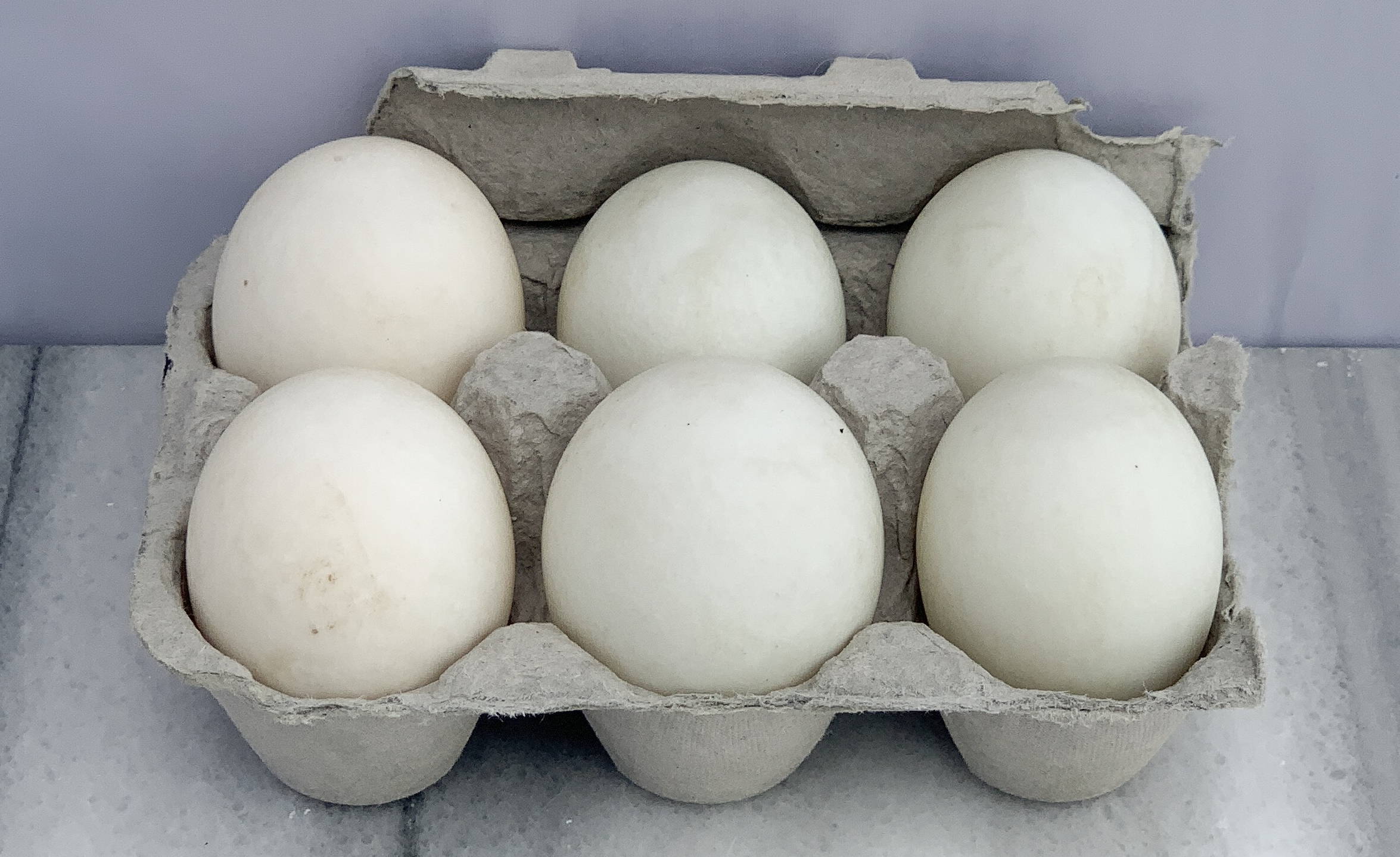 The Farmers: George Trager and Susie,his Lab-border collie mix. She goes everywhere with George, even to MilkRun.
Year Founded: Around 2014-15. As George puts it, there was never an official start date, he just started buying chickens and the business steadily grew.
Acreage: 2 acres.
Animals Raised: Around 200 chickens. George's chickens are not just one breed but many; he likes that he can produce a lot more than just all brown or all white eggs. 6 goats also live on the farm.
Farming Practices: These chickens are raised on a diet of six-grain scratch, protein crumbles, rolled whole barley, and oyster shells to supplement their calcium. No antibiotics or hormones are used. George adheres to sustainable, organic practices and lets his chickens out every morning to graze on open pasture; at night, they're fenced off to about a quart of an acre.
Quote:Speaking to why he does it all, George says, "I like it, it's a service I feel that I'm giving to people that can't otherwise get fresh eggs."
"So it's a labor of love?" This was one of the last questions we asked George Trager when interviewing him about Chicken Scratch Farm, his egg layers' HQ in Eagle Creek, Oregon.
"It's got to be.It's not a money market, I can't retire on it." According to him: "I like it, it's a service I feel that I'm giving to people that can't otherwise get fresh eggs."
And boy, are these eggs special. They're produced by (up to) 200 chickens living on the farm. George keeps his hen numbers proportional to the number of eggs he can sell to his customers. If he ever has more eggs on hand, he makes a point of donating them to a food bank, but most days, he's selling out of his eggs more often than not.
It started in 2014 or 2015 when George and his late wife moved out to the farm. She was working with clay and George started buying chickens. When they started producing more and more eggs, he soon realized that if he had a license, it would allow him to sell wholesale. As soon as he and his wife got the paperwork together (he credits her with steering him in the right direction), he started selling eggs, even going door-to-door in those early days.
Here at MilkRun, we've been getting George's farm-fresh eggs since the beginning. Unlike most store-bought eggs, we know that when we get eggs from George, they're the real deal: from a mixed variety of happy, healthy, pasture-raised hens. That means that these eggs are not uniform, but many colors, and rightfully so. And, these eggs are always fresh, never more than a week old.
George does it all on his own these days but he does have six goats and a trusty companion in Susie, his Lab-border collie mix. She travels with George on his egg routes and keeps the birds in line when the occasional squawker misbehaves.
As mentioned at the start, George does it all because he loves it. He's never taken his birds to the butcher, although "some have died of predators, some of stupidity" he says. But at the end of the day, George is a part of our community, part of our story, and the true definition of what it means to buy local.
If you're in Portland, add eggs to your subscription and see what it means to have an egg from a farm that's just down the road. (Seriously, it's only around 25 miles from downtown Portland!)