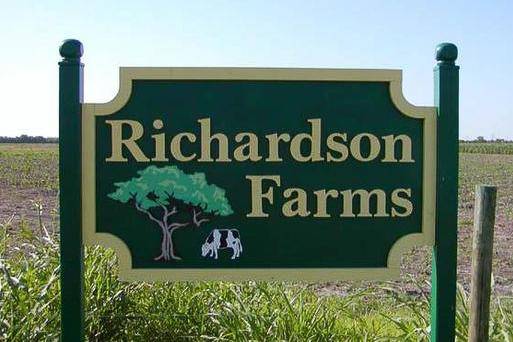 The Farmers:Jim and Kay Richardson, and a cousin, Bob Fellers
Year Founded: 2000
Acreage: 225    
Animals Raised:Grass-fed beef, pastured pork, free-range chicken, turkey, and ducks.
What They Eat:Feed consists of farm-grown, non-GMO wheat, barley, oats, alfalfa, and heirloom grains like wheat, corn and sorghum.
Farming Practices:It's a small dairy with only 25 milking cows, all grazed, all named. All females and young stock are from the farm, all milk is A-2 milk. The cows are part of the family, a dairy practice with a veterinarian at the helm who supports animal welfare 110%.
Feed:In summer it's sorghum, in winter it's non-GMO oats, wheat, and grain grown right next to the fields.
Certifications:As Jim says, "We strive to be beyond organic in the most humane way we can."
Advice:"To the young people: I encourage them to buy into our culture. People want to be a part of the farm, they're grasping for opportunities to support local farms. We give them the opportunity to join our farm and let us support them all the way. I've got a lot of information and I just love to share it. We've got to have people to connect with customers."
Richardson Farms is a family-run farm located in Rockdale, Texas. Owned by Jim and Kay Richardson, this sustainably-minded operation raises grass-fed beef, pastured pork, free-range chicken, turkey, and even ducks! Plus they also run a raw milk dairy and sell their farm-fresh eggs to the folks of central Texas.

Jim is a retired veterinarian from a family of Texan farmers. He has a unique perspective concerning animal care and welfare developed during the 35+ years of his veterinary practice paired with his experience farming. Throughout his career, he continued to farm and have bountiful gardens and now he is living his dream of sharing his love of farming with others. Kay, a Registered Nurse for 40 years, keeps the farm run smoothly by coordinating the constant phone calls/orders, emails, accounting, ordering, etc.

In addition to wide-open pastures, a staple of the Richardson Farm is the 50-year-old windmill that pumps natural, good quality, potable water into large, above-ground storage tanks. The water is then pumped out to the fields, providing excellent natural water for the pigs, cattle, and chickens.

Add a gallon of Richardson Farms' incredible Whole Milk to your next MilkRun order today!