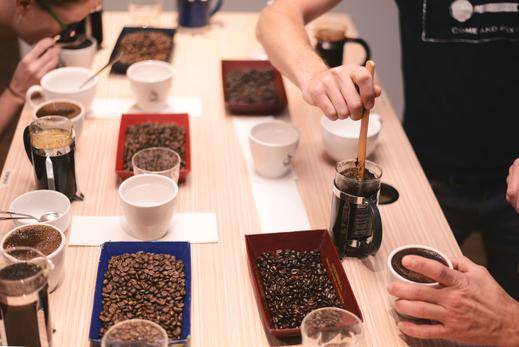 The Roasters:RC and Beth Beall, Carlos Vargas.
Growing Regions:Fair-Trade, Single Origin Beans are sourced from Central and South America, Southeast Asia, and Africa.
What they Make: Single Origin Roasts, Signature Blends, Decaf Blends, Flavored Coffees, and the Cafe Monteverde Especial Blend.
Year Founded:1994
Farming Practices:Cultivating relationships through fair-trade standards; giving more back to the coffee farmers by buying at higher prices;developing symbiotic partnerships with other local businesses through farmer's markets, fundraising events, and community outreach.
Certifications: SCA-certified education program, one of the first fair-trade relationships to be established in the United States
Fun Fact:Texas Coffee Traders is proud to be the home of Texas' first-ever SCA-certified educational campus. Whether you're a first-time taster or a connoisseur, we offer a class to suit your coffee culture cravings. Nestled in our state-of-the-art cupping lab, you can receive a top-notch education on the history of coffee, brew method techniques, flavor profiling, and everything in between. With the most knowledgeable coffee educators this region has to offer, our campus is the ultimate place to hone your skills and launch yourself into a professional coffee career.
We appreciate the giddyup of a good cup of coffee. It fuels our mornings, afternoons, (sometimes nights), and makes us appreciate even more the dedicated team of bean growers, roasters, baristas, and fair trade educators at Texas Coffee Traders.
As co-founder RC Beall describes it,it took a truly terrible cup of coffee in the middle of Montana to plant the seed of an idea for what would one day become Texas Coffee Traders. Fortunately for us, that cup set him on a new path of roasting his own beans and launching his first company in 1981, Montana Coffee Traders.
Over the next 13 years, RC's poured his heart into his Montana coffee-loving community, but he never lost his thirst for knowledge. In 1990, he traveled to the Monteverde region of Costa Rica and met Carlos Vargas, the manager of a coffee-producing co-op called Santa Elena. RC learned all he could during the visit, and even roasted some of the co-op's green beans for the farmers, many of whom had never tried their coffee.
During the trip, RC and Carlos outlined a fair trade relationship modeled after the European fair trade movement:
Having read about the fair-trade movement in Europe, RC offered to buy some of their green coffee at a price much higher than usual, along with the benefit of giving a dollar back to the farm for each pound sold. This established one of the first fair-trade relationships in the United States, and began a lifelong friendship between RC and Carlos.
And then came Texas. In the early 90s, RC returned to his roots to marry his childhood friend, Beth. The two opened Texas Coffee Traders in East Austin in 1994 and the company has been slinging lattes and roasting beans from all over the world ever since.
Through it all, they haven't lost sight of their local mission to give back to the community in all their efforts: partnering with local nonprofits, donating thousands of cups of coffee to countless organizations, hosting Thursday Night Throwdown latte art competitions, managing a fleet of espresso machine service technicians, and educating the community with a first-of-its-kind SCA-certified program.
TCF's love for Austin and its coffee-loving fans is what has us so excited to partner with them!
Add a bag of Cafe Monteverde Especial Blend Coffee Beans to your order today be a part of RC and Beth Beall's incredible coffee journey.