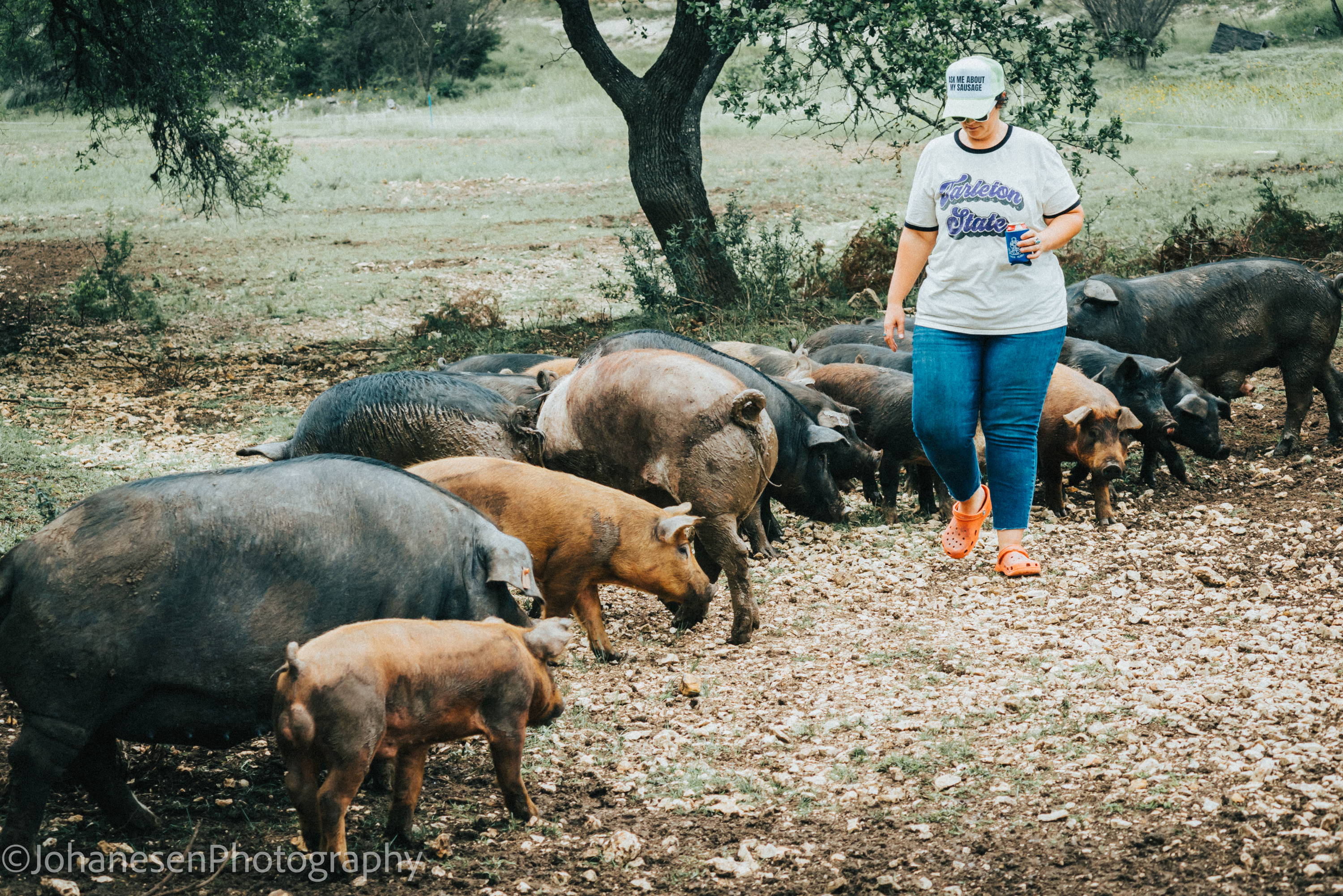 The Farmers:Maggie and Jeremiah Eubank.
Animals Raised: Pigs; heritage breeds of Herford Berkshire and Mulefoot crosses), Dorper sheep, Red Angus and Corriente cattle, chickens (chickens and ducks are also raised specifically for eggs).
Year Founded:2019.
Acreage:2000.
Farming Practices: Regenerative farming, cover cropping, promoting soil health by getting as much water into the ground as possible; trying to preserve and restore pasture grasses that used to be abundant in the Texas hill country.
Quote: Even though Pure Pastures is a livestock ranch, they keep it real with this outlook: "We're grass farmers, meat is just a bi-product of that. We use animals to grow grass." 
Pure Pastures is a family-owned and operated ranch in Canyon Lake, Texas. They practice 100% regenerative farming techniques and produce some of the most delicious, nutrient-dense meats in the heart of Texas Hill Country.
The Eubank and Moorman Families began their loving stewardship of the land they call home in 2015 and since then, have perfected not only their crop rotations, but their intentions on breeding and selections have led to happy, healthy animals. Their pigs were bred to be easy keeping, incredible foragers-they never go hungry and result in beautifully marbled pork. Their sheep are a breed that sheds its hair, as opposed to wool which needs to be sheared, so the sheep are happy in the summer time and the lamb they produce is less gamey than that of wool sheep. In addition to pigs and sheep, they raise cattle, ducks, and chickens for a balanced and well-tended ecosystem.
For now, you can add some of their meats to your order with our Butcher's Choice Subscription!