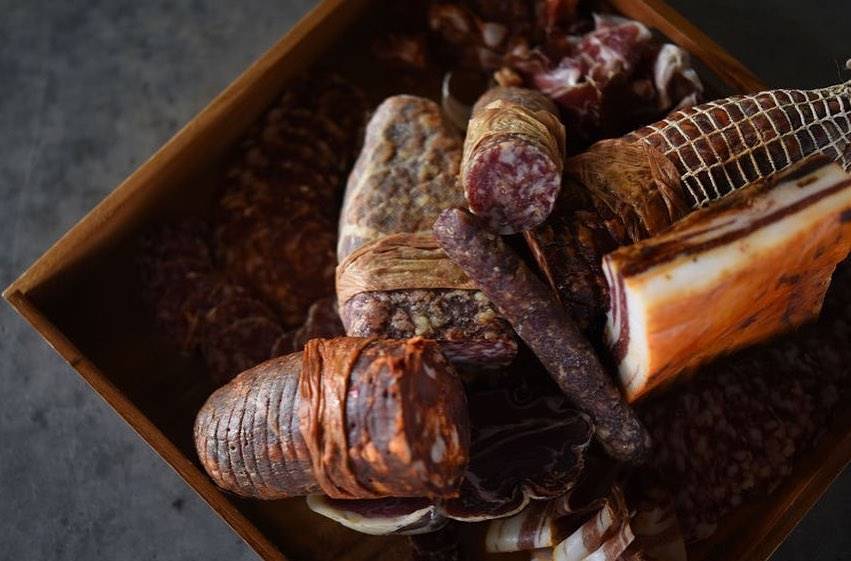 The Butchers: Anthony Pedonesi and Gerardo Garcia.
Year Founded:2020
Location:Austin, Texas
What they Make:Handcrafted salami and cured whole meats.
Practices: Heritage pigs are raised on The Salumeria Farm, where they roam free on lush land and enjoy hormone and antibiotic-free feed in addition to their natural foraging diets. Butchering practices follow the nose to tail tradition, ensuring no part of the animals goes to waste.  
Fun Fact:The founders first met when Anthony contracted Gerardo to do work on his home.
Website:thesalumeria.com
The origin story of The Salumeria is rooted in equal parts DNA and destiny. The founders, Anthony Pedonesi and Gerardo Garcia, both grew up in homes where meat was a cornerstone of not only family meals, but also family culture.
Anthony's obsession started young, when he would spend hours making salami in the backyard with his dad — a longstanding tradition that resulted in family recipes and techniques being perfected and passed down from one generation to the next.
Gerardo didn't grow up curing meat like Anthony, but he was raised in McAllen, Texas, where he would watch in awe as his uncle butchered whole goats for family gatherings.
A mutual meat fascination was indeed in their blood, but it wasn't until Anthony hired Gerardo to help remodel his home that the two struck up a friendship that would ultimately lead them to open The Salumeria. Bonding first and foremost over the experience of being new fathers, today, they revel in the joy of showing their children the ropes of the business in hopes that they will one day carry the tradition forward.
As for the food, though we can only speculate about precisely what makes their savory selection of cured meats so delicious, it unquestionably begins on the 200-acre Salumeria Farm, where they treat their prized heritage pigs to the good life. From eating hormone- and antibiotic-free diets, to lounging in state-of-the art deep straw bedded houses, to foraging on the "salad bar" or cooling off in the wallow — these pigs are among the happiest and healthiest you'll find anywhere.