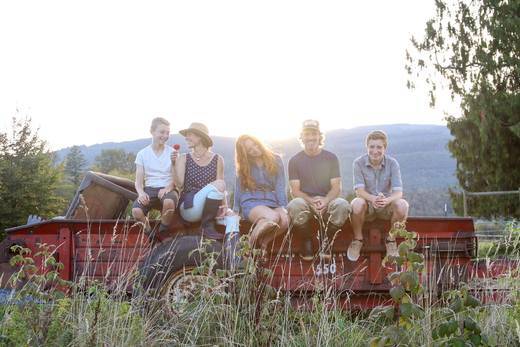 The Farmers: Geoff and Anna Martin.
Year Founded: 2009.
Acreage: 15.
Animals Raised: Chickens, ducks, and heritage turkeys; fruits, vegetables, and eggs are also part of the operation.
Farming Practices: Osprey Hill Farm promotes Permaculture, the art of working with nature through regenerative or rewilding efforts, a portion of the land is untouched to maintain an ecological balance; all animals raised are treated humanely, and nothing goes to waste; the farm's growing practices involve preserving the soil vitality and usingorganic nutrients and farm by-products to grow healthy plants without the need for synthetic nutrients or pesticides.
Certifications: Their butchery isa Washington State Department of Agriculture (WSDA) inspected poultry processing facility.
Fun Farm Fact: Anna and Geoff went fromstudying to become a dietitian (Anna), and working in a lab to sequence DNA (Geoff); to hitting the road in their VW bus to tour the west coast; to starting a family; to founding their own sustainable farm. It's quite the adventure, and it continues to this day.
What do you get when you cross a would-be doctor, a would-be dietician, a VW van, and a burning desire to learn everything there is to know about organic farming? Osprey Hill Farm, of course!
Geoff and Anna Martin met over two decades ago and felt the pangs to start a farm together. Back then, they toured the west coast in their VW van, growing more and more inspired to start one that could be part of a healthy ecosystem, with a focus on soil vitality, balanced wildlife habitats, and respectful land and livestock management.
Osprey Hill Farm is the culmination of those aspirations. Geoff and Anna's family has grown to include three kids over the years, all living together on a small organic farm with a big mission of sustainability. Although the kids are along for the ride, the core responsibilities fall on Geoff, who manages the seeding, transplanting, weeding, watering, harvesting, moving fences, feeding livestock; and Anna, who looks after kids, chicks, poults, ducklings, and seedlings, while also wrangling the sales, ordering, books, and marketing.
Osprey Hill is dedicated to managing a farm not only for today but for generations to come. They do this with a focus on limited tilling and soil development, going to great lengths to cultivate healthy, rich soil with organic alfalfa meal, oyster shells, organic kelp, and their own farm-made compost.
These farmers also make the conscious choice to thrive in harmony with their local wildlife habitat and native ecosystem. They appreciate every creature: from the reptiles to the birds to the bugs (especially the pollinators). In turn, they treat their raised animals symbiotically by offering them a natural environment with housing, an optimal diet, and the commitment to use the whole animal, whether for consumers or long-process composting.
Osprey's animals are pasture-raised with a supplemented diet that is 100% WA-grown, corn-free, soy-free, and certified GM-free. Subscribe to Osprey's amazing selection of poultry today by adding their Pasture-RaisedPoultry to your next order!
Photo Source: Osprey Hill Farm