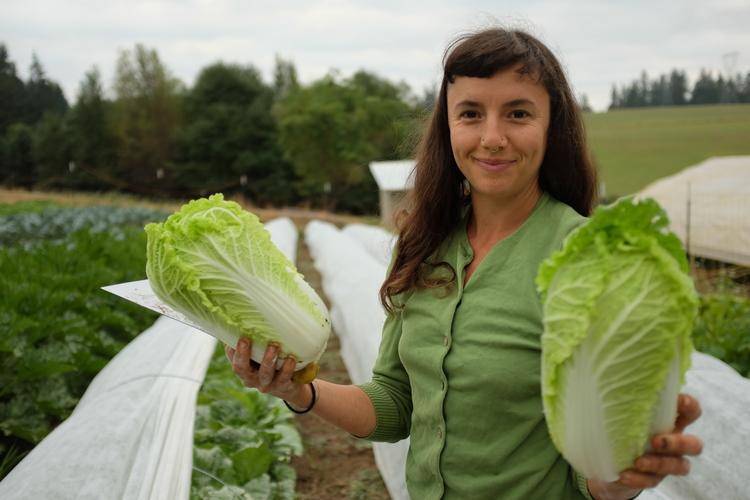 The Farmers:Lili Tova
Year Founded:2013
Acreage:37 acres; 6 acres in vegetable production and 10 acres in pasture for livestock.
What they Grow:100 different varieties of Certified Organic and Certified Biodynamic fruits, vegetables, herbs, and flowers.
Farming Practices: The farm is dedicated to farming in a way that focuses on soil, animal, and crop health to increase the fertility and vibrancy of the land through agricultural practices.Crop rotations, cover crops, and minimal rototilling are regular practices. All pasture-raised meat is cared for using rotational grazing.
Certifications:Certified Organic and Certified Biodynamic.
Fun Farm Fact:The name, "Flying Coyote" is inspired by Lili's love of old ranch names, the desire to grow alongside animals, and more specifically, the mischievous and playful energy of coyotes.
Flying Coyote's organic farm in the shadow of Mt. Hood centers on everything being interconnected. This holistic approach means that the farm is treated as a "whole organism." In other words, the open fields provide grass for the goats; the goats provide milk for the pigs; the pigs provide compost for the fields; everything is connected.
Owner/manager Lili Tova founded her Certified Organic and Biodynamic farm almost 10 years ago. Her mission to embrace the harmony of the land and all the living things on it has resulted in a bounty of flavorful, high-quality produce. From leafy greens to root vegetables, fruits to fresh herbs, there's no denying it: these crops are grown with love.
And for all the heirloom tomato fans out there? Flying Coyote's hand-picked selection of unique and heirloom tomato varieties doesn't disappoint. In fact, restaurants and farmers market customers seek out these red juicy delicacies to use specifically for summer salsas and sauces.
Lili also highlights her farm as being a truly agrarian atmosphere, a hybrid of a garden and a farm. Her crew is made up of constant learners, striving to be responsible stewards of the land by pouring their passion into their animals, flowers, crops, and the fertility of the soil. The reward for their work often involves feasting on everything they've harvested with friends and family.
It goes without saying, we're all a little gaga for this small 37-acre farm just 40 minutes outside of Portland. Flying Coyote's belief that "growing food is an essential and radical act that leads to healthier communities, land, and people" says it all. Whenever you hear us describe our network of "Rad Farmers, Bakers, and Makers," — this is who we're talking about.