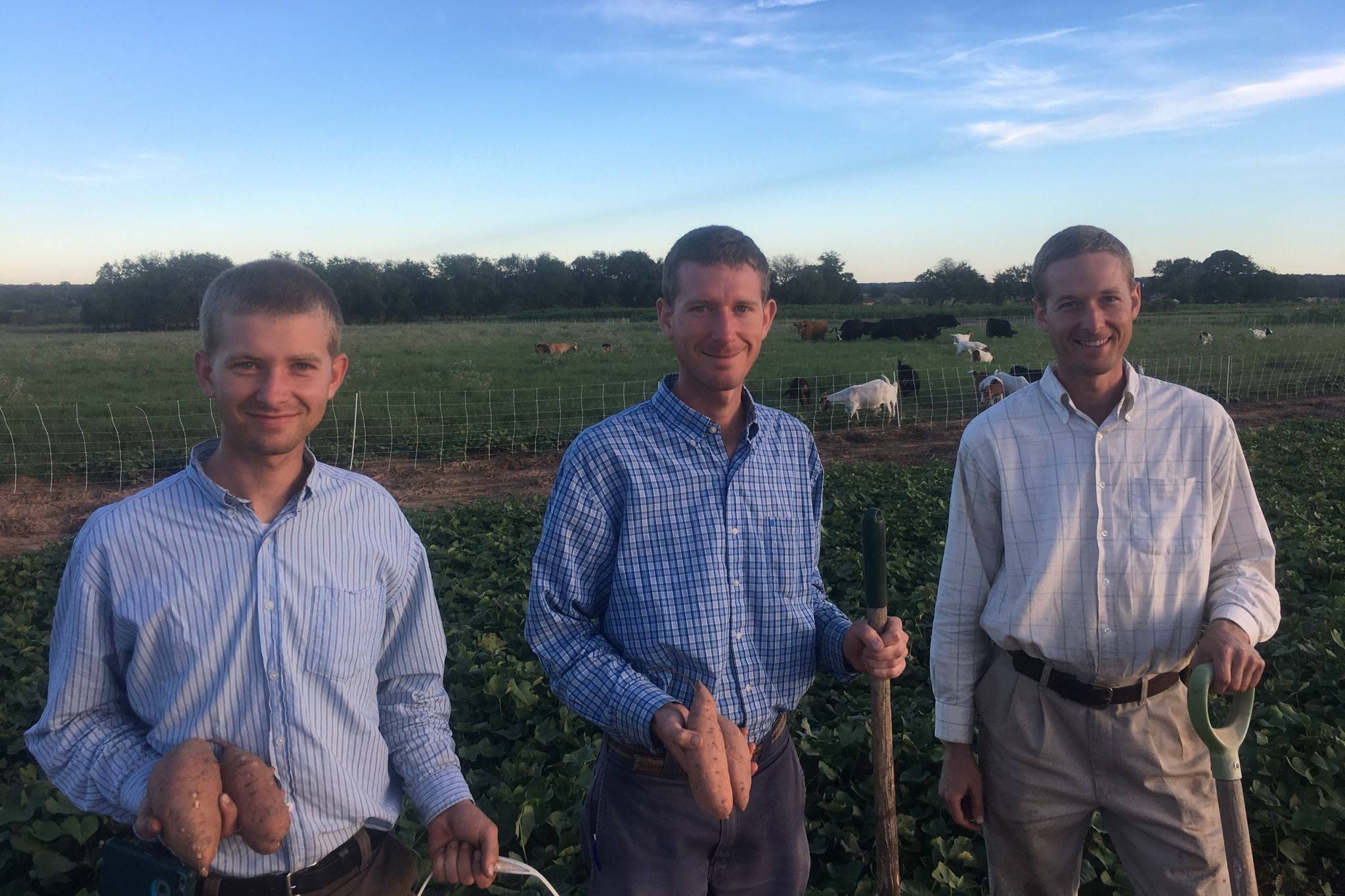 The Farmers: Eli, Gideon, and Hogan Ringger.
Year Founded:2002.
Acreage: 10 acres in produce. 140 acres in grazing for chickens and goats.
What they Grow: A variety of produce including sweet potatoes, tomatoes, peppers, carrots, watermelons, cauliflower, broccoli, kale, lettuce, onions, herbs, okra, cucumbers, potatoes, cabbage and more. Farm-fresh eggs are also a highlight!
Farming Practices: This farm's vegetable farming practices are sustainable, meaning they only use organically approved insect and disease control and soil amendments, including compost and minerals. They also use tractor cultivating, hoeing, and hand weeding to control weeds. Crop rotations and cover crops naturally help build the soil and reduce insect damage.
Quote: Speaking in an interview some years ago, this is what Dale RIngger had to say when asked what sustainable farming means to him: "Simply doing things organically. We try to leave the land better than we found it."
Website: http://www.fruitfulhillfarm.com/
There's a togetherness that resonates at Ringger Family Farm. Dale Ringger credits the book,You Can Farm by Joel Salatin, as an early inspiration for his career path. But even more than that, it's clear that spending time in the field, shoulder to shoulder with his family, is what truly makes every day fulfilling.
Fruitful Hill Farm aka Ringger Family Farm was founded in Bastrop County, Texas by the Ringger family in 2002 as a chance to raise goats and longhorn cattle on a family farm. Dale Ringger wanted to raise his children in the country, giving them an opportunity to learn the responsibilities and care required for their animals.
As fate would have it, this venture turned out to be more "fruitful" than originally planned (pun intended). The family began growing produce using sustainable farming practices. They opted for organically approved pest control; they cared for their soil with composting and essential minerals; they also began cover-cropping and rotating to naturally rebuild the soil on their land. This focus on responsible land stewardship produced the ideal growing conditions for healthy fruits and veggies.
Additionally, the Ringger family produces some of the best eggs in Texas. It's no small secret that sustainable growing practices and responsible land stewardship can result in better living conditions for the creatures living on the land and all they produce. Their chickens are transported weekly to fresh new pasture in a portable shelter dubbed the "eggmobile." Not only does this rotating shelter provide protection for the birds, it also emphasizes a more even distribution of animal fertilizer for the soil. We love knowing that the eggs from this farm are cultivated with love each morning by whomever is on "chicken chores," as they call it.
We've also always got an eye out for Fruitful Hill's amazing sweet potatoes, tomatoes, peppers, melons, winter squash, summer squash, lettuce, greens, turnips, radishes, beets, rhubarb, carrots, cucumbers and more!