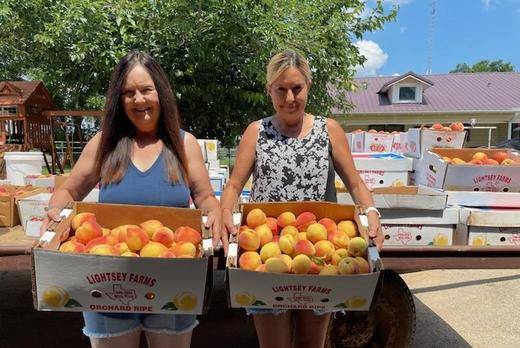 The Farmers: Mary Lightsey, Lisa Lightsey-Hadden.
Year Founded: Around 100 years old; the exact date is unknown.
Acreage: 100+.
What they Grow: Peaches, persimmons, pears, apricots, nectarines, cantaloupes, watermelons, plums, strawberries, blackberries, blueberries, figs, potatoes, onions, carrots, radishes, green beans, squash, zucchini, tomatoes, cucumbers, beets, turnips, okra, peas, peppers, eggplant.
Farming Practices: Sustainable farming practices are used. The farmers don't spray unless necessary (peach trees require spraying to manage diseases and damaging insects).
Quote: This old farmers quote appears on the Lightsey Farms sign: "Every path has a few puddles."
Meet Mary Lightsey of Lightsey Farms. Mary was born and raised Texan on land that's been in her family for over 100 years. Now, she owns and operates that land to grow some truly remarkable produce.
Her grandfather initially established cotton on the land in Mexia, TX, but then made the switch to peaches which are now the primary crop, as well as plums, persimmons, and other fresh goodies for sale. She began her career as a teacher but returned to run the family farm with her sister in 2009 when their father passed away.
From climate change to labor shortages to everyday operations, there's no lack of challenges large and small in agriculture. But evidence of Mary's love of her land and her commitment to it is in every bite of the food she produces.
Currently, Lightsey farms grow over 40 varieties of fruits and vegetables, some of which you can find available for pickup or delivery in MilkRun's produce subscriptions.
Photo Courtesy of Lightsey Farms.