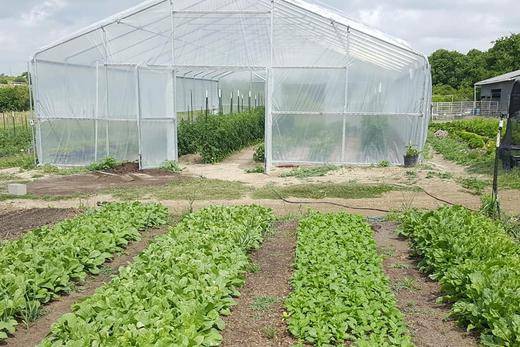 The Farmers: Shawn Fagan, everyone just calls him Fagan!
What they Grow: Tomatoes, shishito peppers, sweet peppers, beets, lettuce, carrots, Brussels sprouts, Romanesco broccoli, cauliflower, radishes, Armenian cucumbers, Japanese Hakurei turnips, onions, leeks, fennel, baby bok choy, radicchio, arugula, escarole.
Year Founded:2014.
Acreage:2/3 of an acre.
Farming Practices: SPIN farming; preserving the soil and creatures within it (essential to growing nutrient-dense food);Certified Organic growing practices means products are free of synthetic pesticides, herbicides, and chemical fertilizers.
Certifications: USDA Certified Organic.
Quote: "You probably shouldn't rely on twenty other people in the supply chain to bring you something as important as nutrition for your family. Right?" 
This small farm's got high aspirations and a high ceiling—literally.
Fagan Family Farms is a USDA Certified Organic Farm in Kyle, Texas using a high tunnel farming system to grow crops year-round. To put it simply, the high tunnel is an isolated growing environment wherein sunshine warms and enriches the soil resulting in "solar gain." This allows farmers to start growing plants earlier and even extend growing seasons into the fall and winter.
Some extra benefits of a high tunnel system include the ability to protect against weather and pests, a more spacious growing environment to walk within, stronger irrigation control, and an increased potential for growing alternative crops that wouldn't otherwise thrive in the region.
On top of their ambitious farming techniques, Fagan Family Farms is committed to the many benefits organic farming has to offer: maintaining richer soil quality, fostering biodiversity, conserving energy, offsetting emissions, reducing pollution, and avoiding harmful pesticides and herbicides.
We hope you enjoy all the local organic goodness from this small farm.