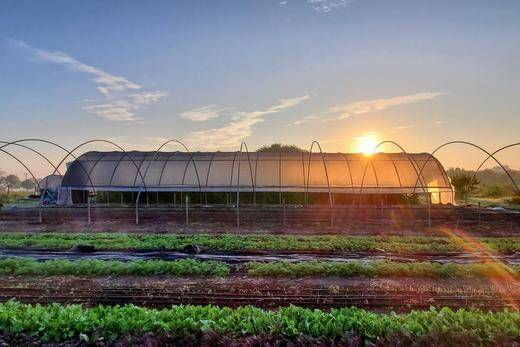 The Farmers:Derek Emadi
What they Grow: Tomatoes, peppers, squash, carrots, arugula, mixed greens, microgreens, lettuce, spinach, okra, turnips, corn, beans, celery, beets, kale, chard, broccoli, cauliflower, bok choy, beets, radishes.
Year Founded:2011, Derek started farming full time in 2014
Acreage:10, but only growing on ½ acre.
Farming Practices:High tunnels, regenerative farming, organic practices, nourishing the soil to get the most nutrients from the food; "We eat a lot of food that's depleted. I do my best to help the soil thrive, I till very minimally, it's primarily a one-person farm. I started doing this for my children, to provide my kids with the best food possible, and the community with the best food possible."
Certifications:FSMA training. From Derek: "I strive to go beyond that, adhering to GAP certified practices, washing, packing, reducing contamination."
Quote: "I am being the change that I want to see in the world. If people were living the way I live, I think things would be much better, everybody would be healthier and kinder."
"Smaller is smarter." This is the philosophy embraced by Emadi Acres Farm, and it's been quite the revelation for its sole farmer.
Derek Emadi bought his 10-acre Lockhart, Texas farm in 2011 as the foreclosure crisis was winding down. At the time, he believed in getting as much land as possible to allow for more crops, more variety, and a more-land-equals-more-returns approach. Today, he only farms about an acre of land. And he's flourishing because of it.
Using two newer methods of farming, Derek has been able to grow vibrant produce that can be sold directly to consumers. The first method, Market Garden Farming, involves small-scale growing practices. Also called a micro-farm, this small plot approach allows farmers to dedicate more attention to their crops, enriching the final harvest. The other method, SPIN (Small Plot Intensive) farming, centers on getting the most out of the land using bio-intensive methods and frequent crop rotations. Again, this small scale benefits the farmer with more control, more time management, and stronger yields in the end.
Discovering these farming methods changed the game for Derek. It allowed him to focus on growing high quality crops on smaller plots while also giving him more time to spend with his family. Today, he uses high tunnels and the Market Garden/SPIN hybrid approach to produce fresh fruits and vegetables for the central Texas region. Emadi Acres Farm is committed to growing clean, nourishing, wholesome food that's free of chemical pesticides, fertilizers and artificial ingredients.
This smaller, local approach is exactly the kind of farming we stand behind. We're consistently blown away by the fresh beets, kale, chard, cabbage, radishes, and so much more from Emadi Acres Farm, so keep an eye out for them in your weekly Local Produce!