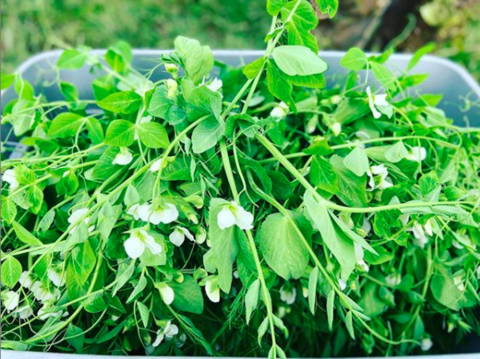 The Farmers:Elaine Walker and Kara Gilbert, Relk Forsloff, Clea Partridge, Angie Lucian, Rosemary Stafford, Amelia Clements, Danielle Sanderson, Les Rendon, Jae, Brooke Smith, Maggie Goddard, Anne Daniel, JME.
Year Founded:2013.
Acreage: 8 total, 4 farmed.
What they Grow: Scallions, garlic, salad mix, turnips, pea shoots, purple mizuna mustards, snap peas, radishes, little gem lettuces, butter lettuce, kale, chard, garlic scapes, beets, onions, Napa cabbage, sweet peas, eggplant, peppers, cucumbers, tomatoes, collards, carrots, potatoes, melons, frisée, fennel, kohlrabi, cippolini onions, summer squash, cherries, peaches, plums, apples, arugula, pears.
Farming Practices: Honoring the native ancestors — primarily the Chinook Tribe — of Sauvie Island (originally called Wapato Island) withregenerative farming techniques, diversified plants and crops, continuously rebuilding the topsoil, and a commitment to reduce plastic intake.
Fun Farm Fact: Vibrant Valley is a women-owned and operated farm working to connect the world of growing food with the greater community. These farmers are fully invested in inclusivity, placed-based alternative education, and their enduring commitment to social justice in all they do.
We are a group of dedicated farmers and passionate educators committed to exploring innovative solutions to enliven the current food system, both locally and globally.
We work to honor ancient traditions in growing food and connecting to the land as well as to helping to create healthier communities. We are partnering with local schools and youth projects to create mentorship programs as well as green job training possibilities to accompany the hard work and dedication of growing food and learning from one another in a field setting.
At Vibrant Valley Farm we strive to connect the world of growing food with our greater community as much as we can. With our backgrounds in placed-based alternative education, we are eager to create an inclusive environment for folks to share in the bounty of learning from the land with educational opportunities and civic participation.