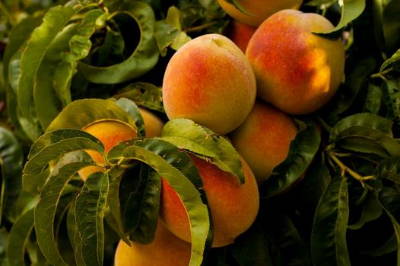 The Farmers: Brian and Brooke Collins and multiple generations of the family.
What they Grow: Doughnut peaches, nectarines, white peaches, apricots, hybrid fruits such as pluots and apriums (half plum/half apricot), plums, a mixture of apples (Honey Crisp, Pink Lady, Jona Gold, Fuji, and more), pears (Bosc, Packham, Asian, Bartlett).
Year Founded: 1905.
Acreage: 35 acres.
Farming Practices: "At Collins Family Orchards, we pride ourselves on quality fruit and sustainable practices. We have been sustainably growing since 1905. Our livelihood and family has been connected with this orchard and this land for over 100 years; we take our responsibilities as land stewards seriously."
Fun Farm Fact: The Collins family has found great success in growing hybrid fruits (fruits created by crossbreeding two varieties). This process results in a hybrid that carries the genetic characteristics of the parent fruits. The farm's first hybrids were Dinosaur Egg pluots - a big hit! A section of the orchard is dedicated to continued experimentation for new hybrid varieties.
The Collins Family Orchards, founded in 1905 in Selah, WA, is an absolute gem! 35 acres of beautiful, highly curated orchard fruits with an emphasis, and pride, in their selection of outstanding stone fruits suited to excel in the uniquely beautiful climate just North of the Yakima Valley.
When Don, the second generation of Collins to farm their land, wanted to retire, the only one of the children who had an interest in carrying the family's legacy onward was his son Calvin. Today, decades later, and with many new business notions to boot, his youngest son, Brian, is sharing an equal amount of pride and partnership in the business.
Brian forged a calculated pathway, steering the business's gaze towards selling into the markets of Seattle, more seriously than before. He also saw the value in diversifying the different crops they put their energy towards growing!
These efforts ultimately defined much of their current presence. Brian says "It's a part of who you are. Even though it's a risk, I keep going because that's who I am."
We are privileged to get an opportunity to work with Farmers as determined and honorable as all the people at the Collins Family Farm.